Applies plastic wrap to packages of bottles.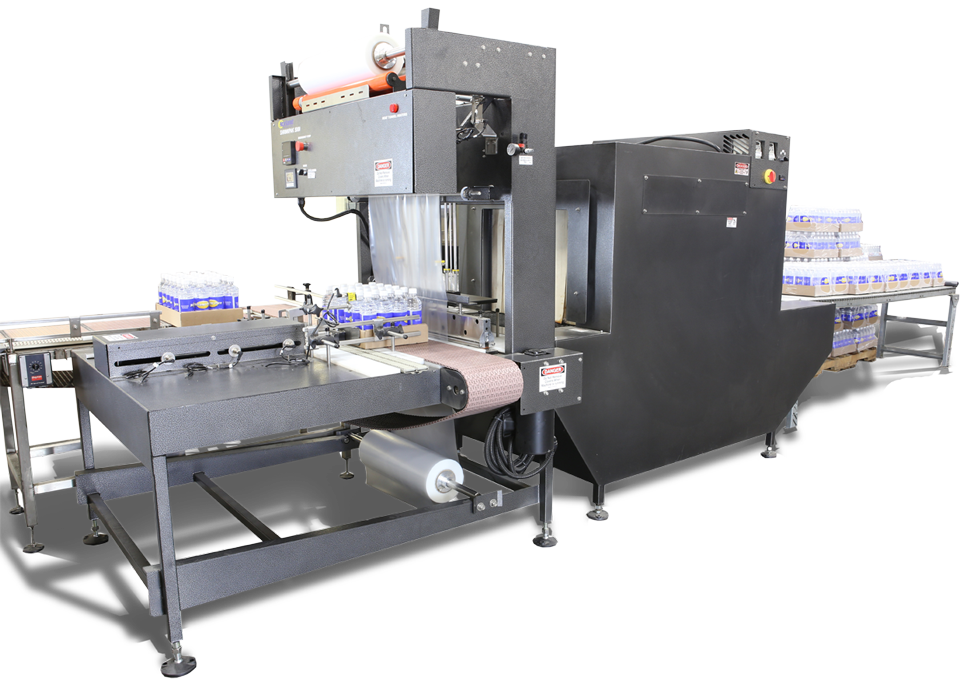 The ShrinkPak5000™ System applies plastic wrap to packages of bottles and then conveys them through a heat tunnel where a controlled heat process securely shrinks the plastic.
ShrinkPak5000™ dramatically reduces costs—saving up to 70% of the cost of corrugated material.
Shrink wrap improves the marketability of a product at the retail level because the packages design and logo are visible through clear film. Your shrink wrapped bundle, with its marketing message easily visible, will enjoy prominence on the shelves of retailers, wholesalers, wholesale price clubs and warehouse clubs.
Consumers can more easily handle a bundle (in warehouse club or discount store situations) and can more easily see the product inside the bundle versus corrugated cases.
The shrink wrapped packages are inherently tamper-evident and protected from dust and abrasions.
Corrugated takes up more valuable storage space. Poly rolls save up to 75% on storage space.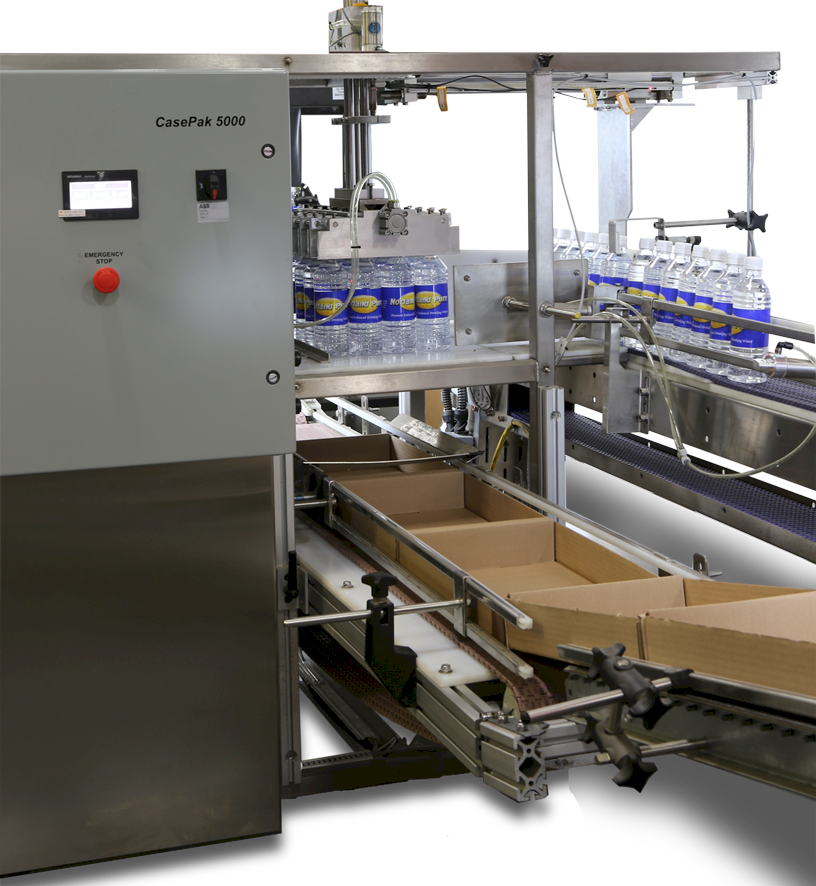 The CasePak5000™ System
is engineered to automatically align preset configurationsof 6, 12, and 24 bottles and place them onto trays or into cartons. The straightforward design of the CasePak5000™ System allows easy setup, adjustment and maintenance. 
The CasePak5000™ is a pneumatically operated automatic system for boxing virtually any food products packaged in 8-oz (240 ml) to 1-gal. (3.8 L) plastic bottles.
PLC-controlled for efficiency and reliability, the versatile CasePak5000™ is compatible with a wide range of conveyors. The unit automatically accumulates, counts and packs bottles into pre-set configurations of
6 x 4, 2 x 3, 2 x 2, and 1 x 3 boxes or trays. 
An optional automatic lift conveyor can also raise or lower filled boxes to the level of shrink-wrappers and case-tapers being used in the packing line. The system will pack up to three to four cartons or trays of 24 bottles each per minute.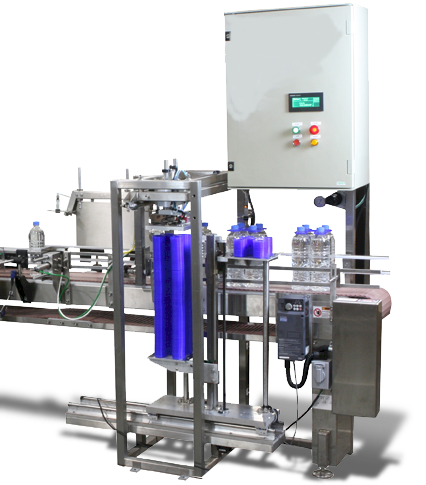 The MultiPak5000™
Automatic Multi-Pack Bottle Carrier Applicator is the newest innovation for fast and efficient packaging of up to 6 bottles into one EZ carrying handle. 
If you are looking for ways to bundle your bottled water into quick take away packages, we has the solution. Offering single to 6 pack configurations, the MultiPak5000™ can be quickly changed over from one package configuration to the next, and is capable of up to 8 preset configurations.
The MultiPak5000™ offers an alternative packaging solution and can increase your sales by producing multipak bottles or cans!