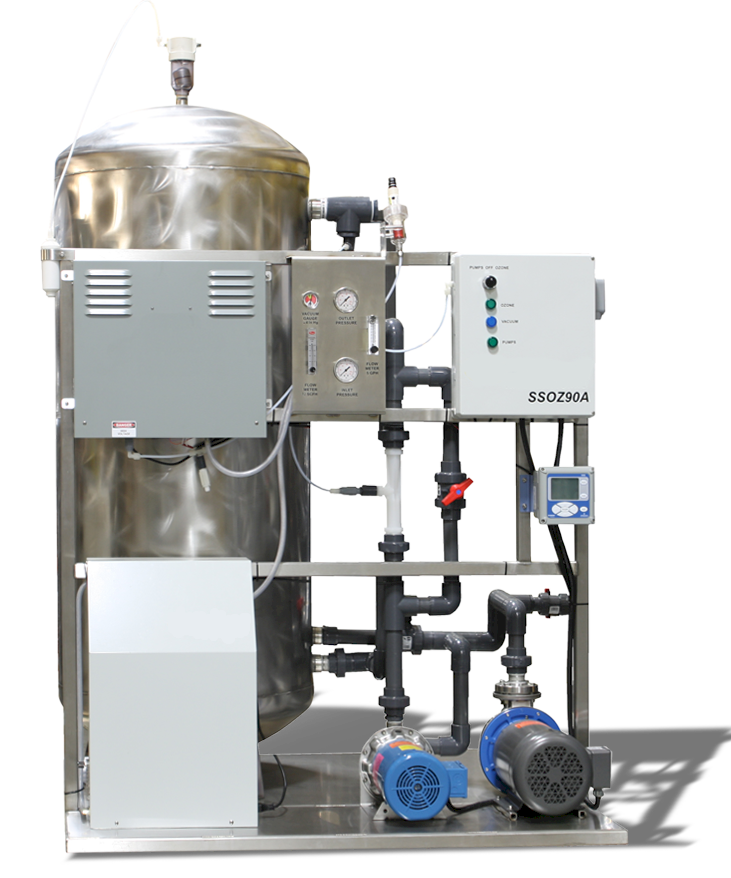 Ozone/UV Treatment
Treat between 25-90 gal/minute

The Ozone Systems are complete frame mounted modules designed specifically for high quality bottled water operations and can produce enough ozone to treat up to 90 gallons per minute. Larger systems are available upon request. These compact systems are designed to keep ozone residual levels from 0.1- 0.4 MG/L. The SSOZ90 utilizes an air cooled, patented, "Cold Spark" Corona Discharge Generator. This technology allows the production of high concentration of ozone with little heat generated - eliminating the need for additional water cooling mechanisms for the ozone tube.
As with all treatment systems, the SSOZ90 is reliable, cost efficient and easy to maintain. The product water is drawn from a storage tank by the stainless steel re-pressurization pump supplied with the system. The pressurized product water is then injected with ozone gas through the Mazzei Injector.
The system is designed to provide effective mixing and "Mass Transfer" of the ozone and product water prior to entering the filler. The stainless steel contact tank further increases the level of ozone in the product water by blending together, under pressure, the molecules of ozone to the molecules of water.
Note: we currently have three ozone systems: SSOZ25, SSOZ50 and SSOZ90.
Features:
Air Cooled, Corona Discharge Ozone Generator

55 Gallon Stainless Steel Contact Mixing Tank

Venturi Injector with By-Pass 

Automatic, High Capacity Oxygen Generator

Stainless Steel Frame 

Schedule 80 PVC Plumbing Components      

Produces up to 4.4 grams per hour 

LED Status Indicators      

Limited 1 year warranty