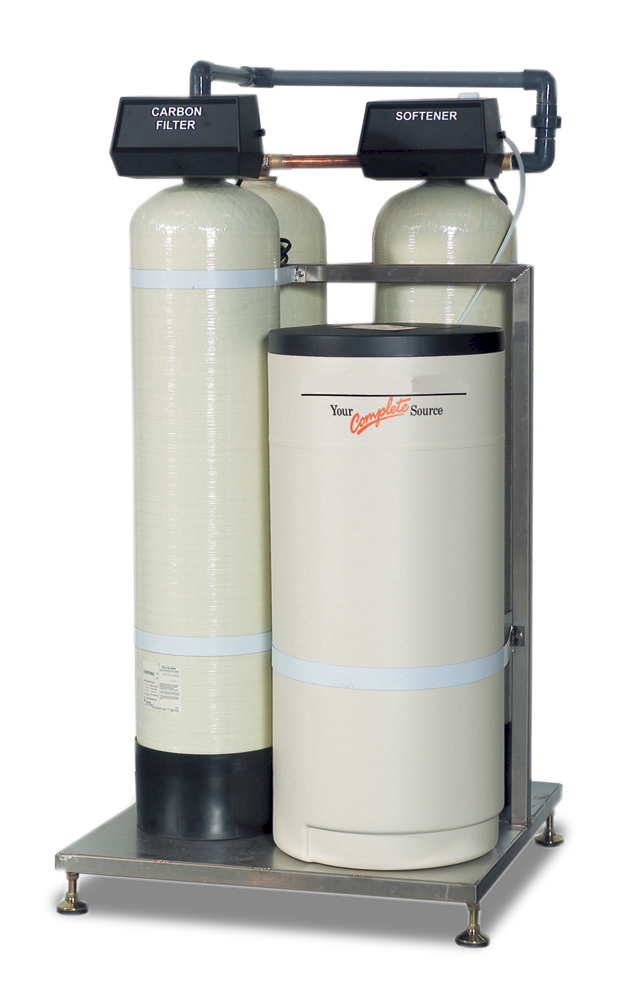 Water Softeners/
Carbon Filters
Flow rates of up to 24gal/minute

The deluxe systems incorporate activated carbon filters to remove bad tastes and odors from the water. Spectrum TT Series automatic water softeners have been designed for light commercial and industrial applications. Since they are designed to deliver a continuous uninterrupted supply of softened water, the TT series is ideally suited to treat the feed water before distillation or reverse osmosis. Sizes range from 16,000 grains to 128,000 grains per resin tank and flow rates of up to 24 gallons (91 liters) per minute.
The TT Series water softener is a twin resin tank with a single brine tank and control valve. The metered control valve measures the water that is softened which optimizes regeneration frequency and only regenerates when required. One tank is always in service while the second is in the stand by or regeneration mode - assuring a constant supply of softened water. This feature lowers operating costs and reduces salt and water consumption.
The system can regenerate once every 4 hours. The model 9000 control valve is used on all TT series water softeners. 
The spiral wound poly glass resin tanks and heavy-duty polyethylene brine tanks are corrosion resistant for a long, durable and trouble-free life. Only high-capacity cation resin is used in the TT Series water softeners and no hard water is ever bypassed.